Make unique photos with Snappy Photo Filters and Stickers for Chat and for sure get more likes and followers by using this app! Add smiley Doggy Face rainbow filter – cute rabbit – anime eyes – tears – text – stickers and cartoon, doggy, and much more.. to your selfie in just a few seconds! Easy to add text which is very unique functionality. After adding smileys, text, and images we can place them anywhere to modify the image. The image filter not only makes images very innovative but also perfect for sharing on any platforms like Facebook, Twitter, and more.
Images that the user can use to edit the images:
Camera (Take a snap from camera click)

Gallery (Pick a photo from your local folder)

After picking a picture from Gallery/Camera, the image will be displayed in the background. Now you can see four bottom icons.
Stickers can also be employed while editing by the following steps: Clicking on an upper layer just above will be opened and clicking on any icon will display icons from a particular category. The application can also employ the text on the images by Adding a customized text on the image background, options are provided like customized font, font size, and color.
Save the picture and if modifications are required then apply the effects and this will save your modified picture into the local storage. The share function will share your picture to the desired location wherever you want like on Instagram and get more followers. Use the Snappy Photo Filters and Stickers for Chat to take amazing selfie photos every time.
Add Emoji and filters to your photos, we have added emojis and stickers to have more fun pictures using these awesome emoticons. Download and have fun!
Guide to use: Snappy Photo Filters and Stickers for Chat
Step 1: Launch the application when it is completely installed on your PC or laptop by clicking on it.
As soon as it opens up, it presents two options on the display of your screen, 'Camera' and 'Gallery'.

If you wish to edit an image that is there on your device, click on "Gallery"

However, if you wish to take a photo at the moment and edit it simultaneously, 'Camera' is the button you are looking for.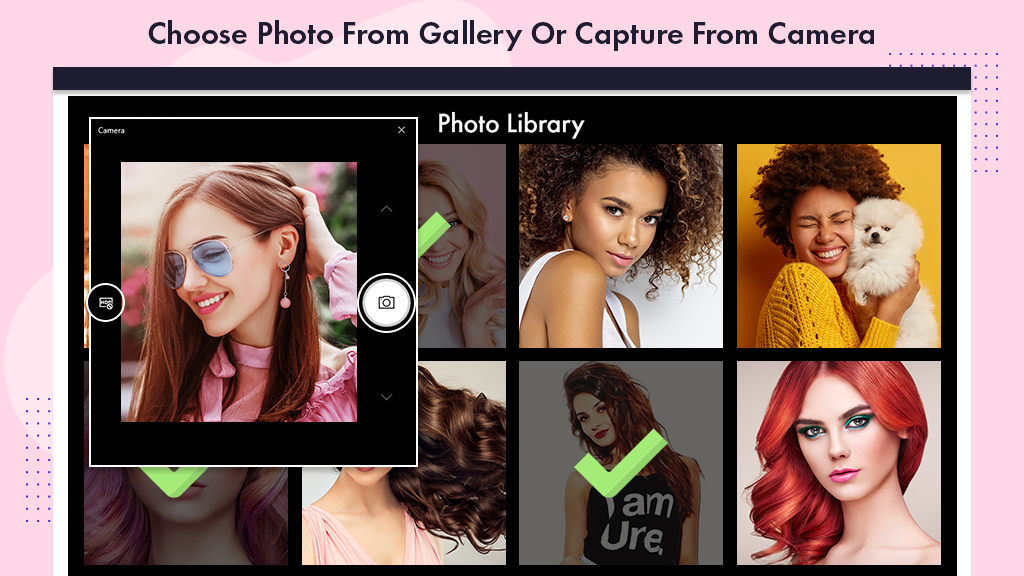 Step 2: Now select the photo by browsing through your library or capture the moment instead. Choose a photo or capture using your camera after selecting the photo wait a moment it will take 10 to 20 seconds to ready the photo.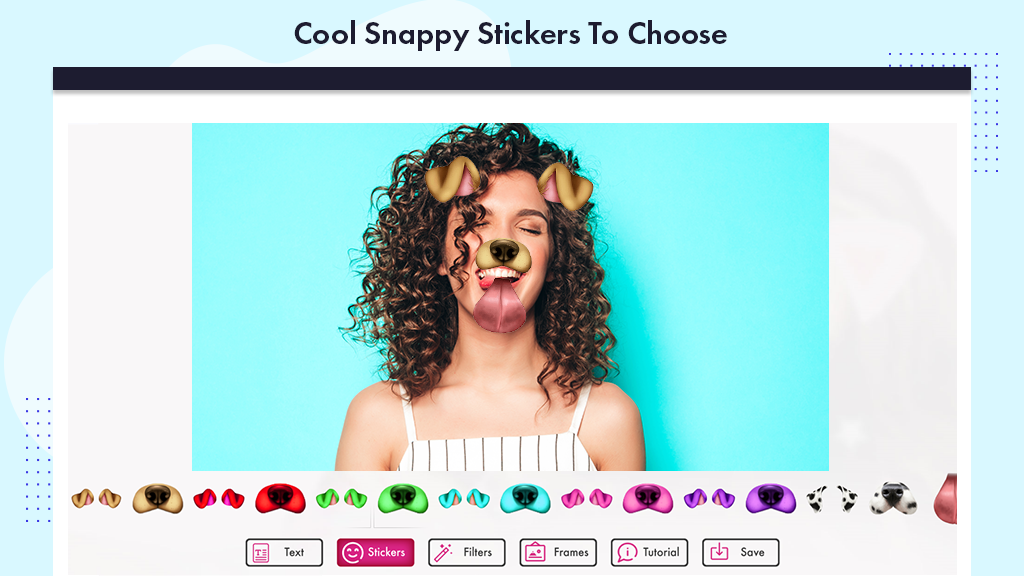 Step 3:  Click on the filters button to apply beauty filters to photos.  Click on the 'filters' button to add art features and magnificent filters to your photo. You will be provided with a lot of options having various filters for your photo. Choose the one you think suits the most with the photo.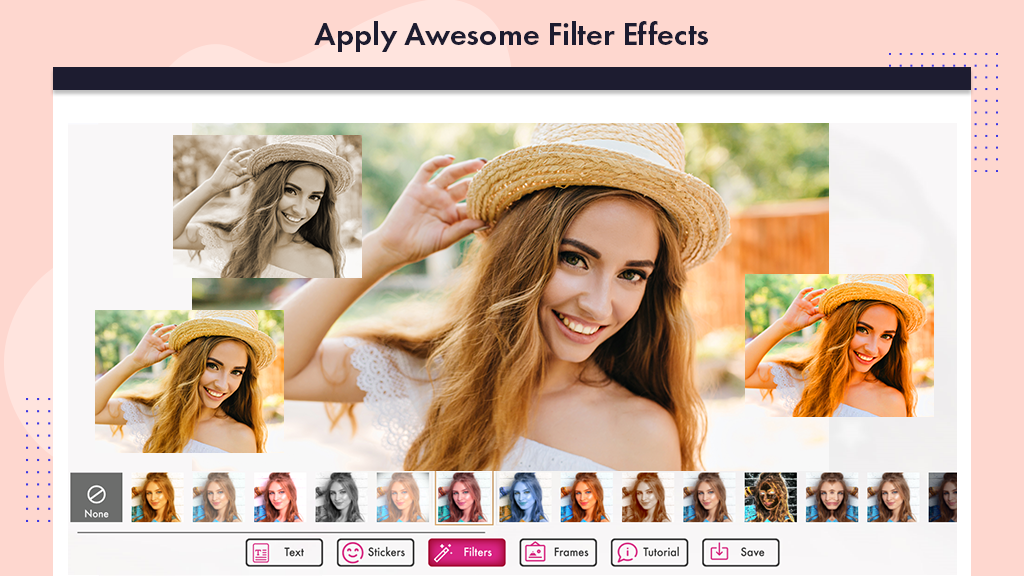 Step 4: moving forward to the sticker option. Click on the sticker button to apply cool and funny stickers to the pip photo. Click over the sticker and set the sticker position on your photo. Click on the Save button to save your photo in the gallery.
Step 5:  Write text on the photo just click on the text button. Write your text and choose a color. Multiple Font styles choose a font style. You can also use font edit like bold, italic and font size. After writing text click on the top left check icon.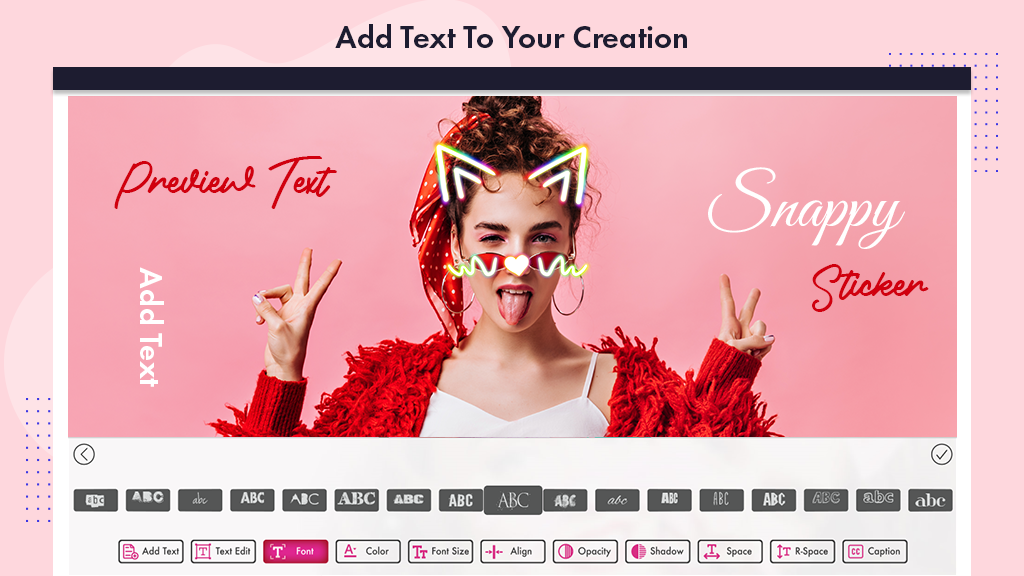 Step 6:  Click on the Save button to easily save photos to your gallery. You can also share photos with your social media account.