Cartoon Photo Filters-CoolArt
Cartoon Photo Filter is a Cool Art filters app that translates your photos into artwork using its stunning theme. Cartoon Photo Filter comes with formidable cartoon filters, pencil sketch effects, photo filters, and stylish glamour selfie beauty camera blending filters.
Introducing Cartoon Photo Filters: Your Ultimate Artistic Photo Enhancement App!
Unleash your inner artist with Cartoon Photo Filters, an exceptional application that transforms your ordinary images into extraordinary masterpieces. Are you ready to embark on a journey of creative expression? Look no further! This app is not just a camera selfie painting editor; it's your gateway to a world of captivating visuals.
Photography isn't just about capturing moments; it's about capturing emotions, stories, and unique perspectives. Our array of remarkable filters goes beyond the ordinary, elevating your photos to a whole new level. Whether you're yearning for the timeless charm of an oil painting, the whimsical allure of cartoon effects, or the elegance of themed art, we've got you covered.
Filters are the magical touch that can turn a mundane scene into a breathtaking masterpiece. They effortlessly minimize glares and reflections, allowing you to capture the essence of an image with unparalleled precision. With Cartoon Photo Filters, you'll unveil hidden details and emotions that might have otherwise remained unnoticed by a standard camera.
Dive into the world of artistry with our Cool Art filters, each meticulously designed to transport your photos into a realm of captivating beauty. And that's not all – our pencil sketch effects add an element of timelessness to your images, giving them an artistic hand-drawn charm that's hard to resist. Looking for a touch of glamour? Our selfie beauty camera blending filters infuse style and elegance into your self-portraits, ensuring you always put your best face forward.
The possibilities are endless! Apply these fantastic filters and effects to your photos, creating a visual narrative that's uniquely yours. The power to evoke emotions and spark conversations lies in your hands. Once you've perfected your masterpiece, save it instantly and share it with friends and family on your favorite social networking platforms. Let your artistry shine on Facebook, Twitter, and more!
Our user-friendly interface allows you to adjust and crop images to your heart's content. Every editing option you need is at your fingertips. Explore the wide range of filters at your disposal, each carefully curated to enhance your images in ways you never thought possible. And the best part? All your edited images are neatly organized in a dedicated folder, ready to be showcased whenever you desire.
Your creativity knows no bounds, and neither does Cartoon Photo Filters. Capture moments, transform them into art, and share your unique perspective with the world. Join the ranks of creative enthusiasts who are using our application to redefine photography. It's time to paint your reality with imagination – download Cartoon Photo Filters today and let your creativity run wild!
Guide to Using Cartoon Photo Filters – CoolArt
Step 1:- Welcome to Cartoon Photo Filters – CoolArt! We're excited that you've installed our user-friendly application on your PC or laptop. To get started, simply click to launch the application.
Upon opening the Cartoon Photo Filters – CoolArt application on your device, you will find two options:
Option 1: Camera Shot You can apply avatar stickers and filters to enhance your pictures in real-time.
Option 2: Photo Gallery Using this option, you can edit images that you already have saved in your gallery.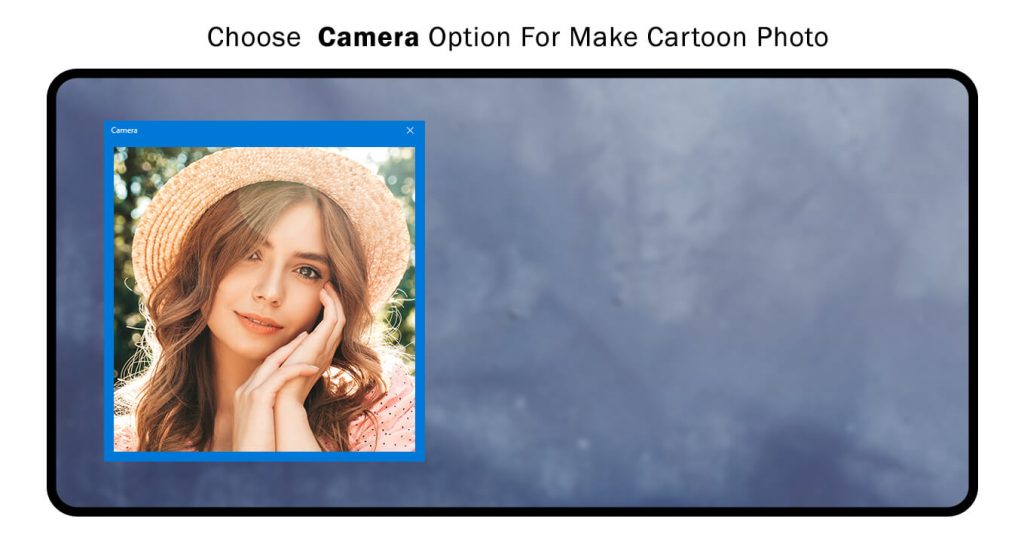 Step 2:- After selecting a photo from the gallery or capturing an image, proceed to crop, rotate, and flip the image as necessary. Then, click the "Crop & Next" button to proceed to the next editing feature.
Step 3:After clicking the "Crop" and "Next" buttons, select the 'Cartoon Photo Effect' option. Choose the cartoon filters: Prism A, Prism B, Prism C, and Prism D. Additionally, apply the 'Basic' and 'JVFilm' effects. Each effect category offers a variety of options. Click on them individually and select the most suitable effect for your image.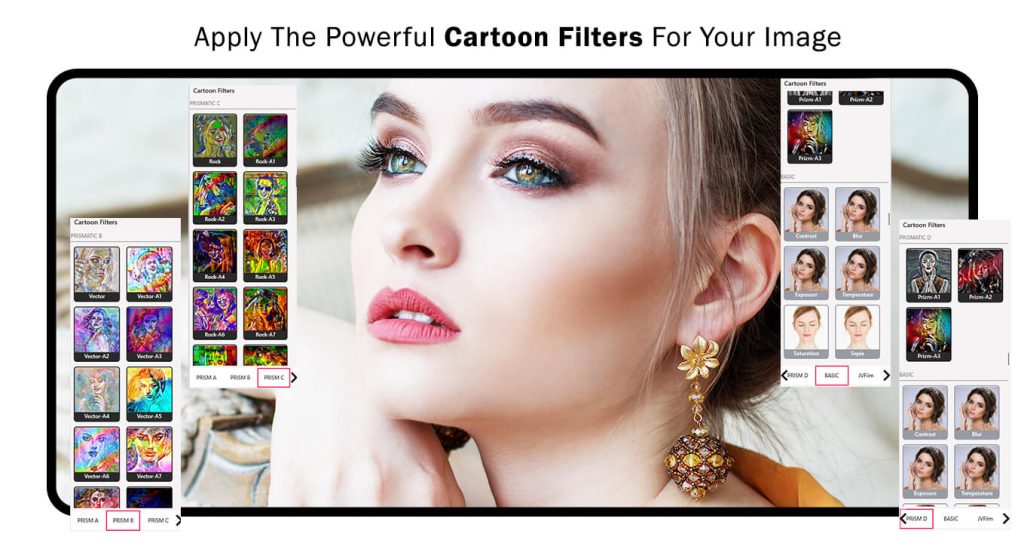 Step 4:Now, moving on, you can click the 'Blur Shapes' button and select your preferred shapes to apply them. Afterward, click on the 'Blur Shape Color' button and choose your favorite color to apply. Following that, click the 'Shape Stroke' button to adjust settings such as Stroke Opacity, Stroke Thickness, and more. Continuing onward, click on the 'Filter' button and select your desired effect to apply to your image creation.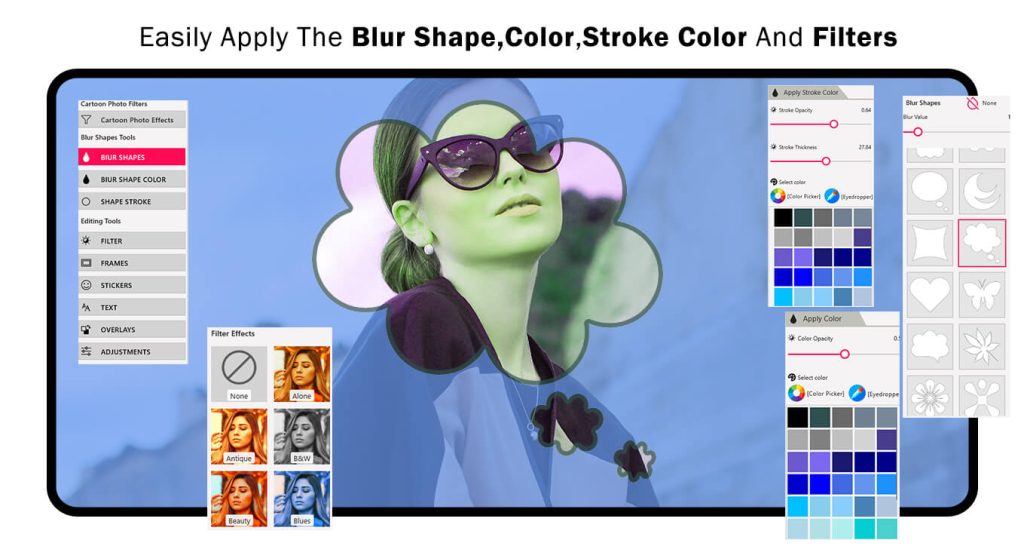 Step 5:- Moving forward, you have several more options:
Click on the 'Frames' button to apply frames to your image creation. Select your preferred frame to enhance your image's appearance.

Utilize the 'Sticker' button to add stickers to your cartoon image creation.

For adding text and giving a name to your cartoon image creation, click on the 'Text' button. You can also modify text color, font style, text opacity, and other related settings.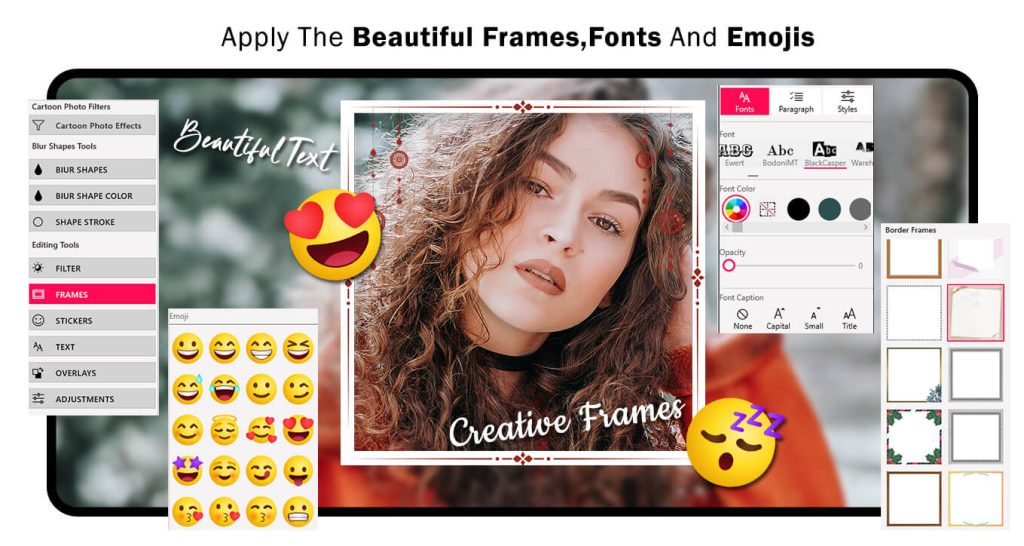 Step 6: –
To incorporate an overlay effect into your image creation, click on the 'Overlays' button. The application offers a diverse range of overlay effects; simply choose your favorite and apply it to your cartoon image creation.

Proceed by clicking on the 'Adjustments' button. This will enable you to fine-tune settings such as brightness, sharpness, contrast, exposure, warmth, and more on your image.
Well done! At this point, click the 'Save' button to preserve your creation. Should you wish to save your image creation in a specific folder, you can do so by clicking the 'Save As' button.