We have all the features you might need
Are you perplexed about which of the photos you should post on social media platforms? If yes, then we present to the "poster maker and poster design", you can do it easily and effortlessly. 
Poster Collage Frames Maker is the most brilliant poster photo frame for collage photos! Make your photos extra fun with creative frames and picture collage layouts. Poster Collage Frames Maker set your photo in another photo frame with some creative frames and magazine cover. Poster Collage Frames Maker easily makes your photo more stunning than other photo frames. You can choose from a single photo frame, 2 photo frames, 3 photo frames, 4 photo frames, and 5 photo frames, and accordingly set pictures! Our new advanced features allow you to create such an aesthetic photo and convert it into a masterpiece. Be ready to use this revolutionary feature and take your creativity to another level.   By just clicking on the picture you can Zoom In, Zoom Out, Edit, Change Picture, Delete Picture, and more features to use. The menu on photo click (on Edit) you can have more functionality like:
Effect – Make your picture more attractive with the effects embedded in the application and post it on social media platforms (Instagram, Twitter, Facebook) 

Frame – Set a lovely frame on your photo. Frames give a complete look to a photo. Give an accurate finishing look to your images through this application.

Stickers – Add fun stickers to your images. The application consists of lots of trendy and funky stickers that you can apply on your pictures to make it look cool.

Overlay – Add overlays to your images and make your photos compelling and get those likes and comments you wanted.

Crop – Cut your photo according to use. Remove the excess part of the picture to zoom in the features more closely and save it and edit the same.

Rotate – Easily rotate your images and flip them on choosing what according to you is your best side.

Light – Add lighting effects to your images and make them look real as if its a sunkissed picture.

Color – Set your photo with Contrast, Brightness, Highlight, and Shadow and give an enhanced look to your images.

Splash – Play your photo with some magic effect and get ready to have the splash of likes you want.

Draw – You can make a drawing on your photo as well. Draw or paint your mind out.

Text – Add some text to your photos and make your images more memorable. Write the message that you want to convey through the photograph.
Guide to use: Poster Maker & Poster Designer
Step 1:
To proceed further click on the button which you wish to perform i.e.
1 photo

2 photo

3 photo

4 photo

5 photo
Step 2:  Click on the one photo button or the option of your choice Choose your favorite template and start editing. Below are the steps describing the same:
 After choosing the template, you can click on the gallery icon and choose your photo and set it in the blank box.

You can right-click on the template and open some editing tools.

Click on zoom in and zoom out to zoom your photo.

You can change your photo by just clicking on the change button.

For deleting photos and cancel editing, click on the delete and cancel icon.

Click on the stickers icon and add lots of stickers.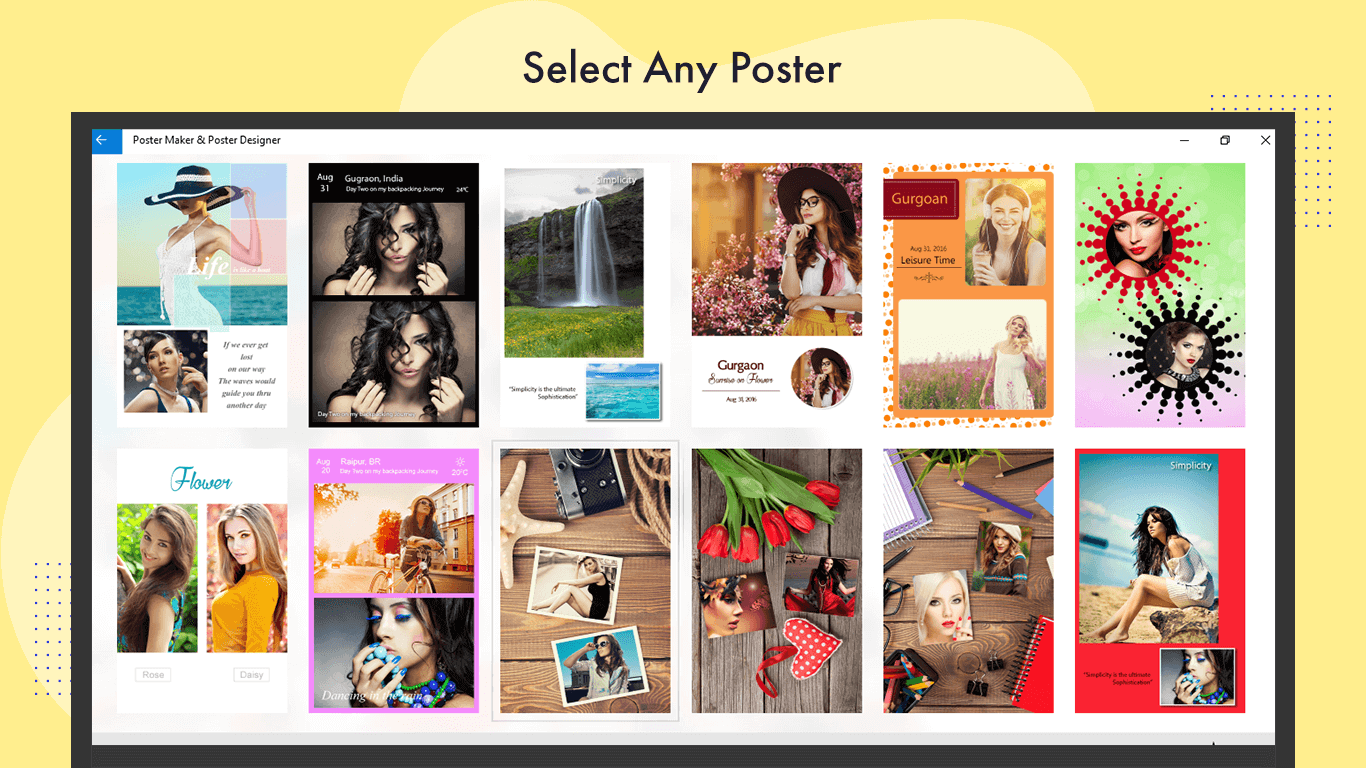 Step 3: to move forward in the realm of steps to follow to create a poster, follow the following steps and enjoy the poster maker and post design offerings:
Right-click on the template and click on the edit pic icon.

Click on effects and add filters.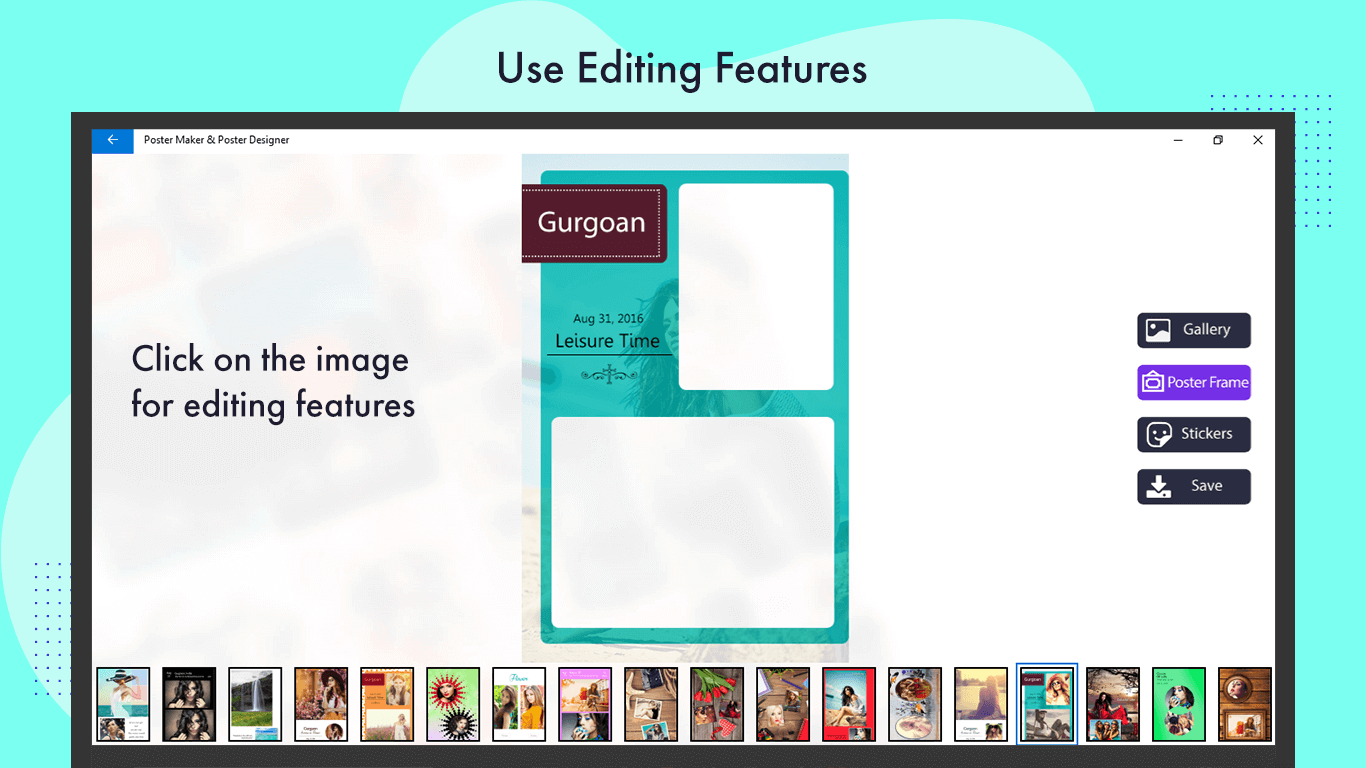 You can add lots of border textured frames using frame icons.

Click on the overlay icon and blend some glossy effects.

You can crop your image using the crop icon.

Rotate your pic using the rotate button.

Click on the light icon and adjust your photo's brightness, contrast, etc.

Click on the text icon and you can write other text in your template.

Click on the next icon to continue for design.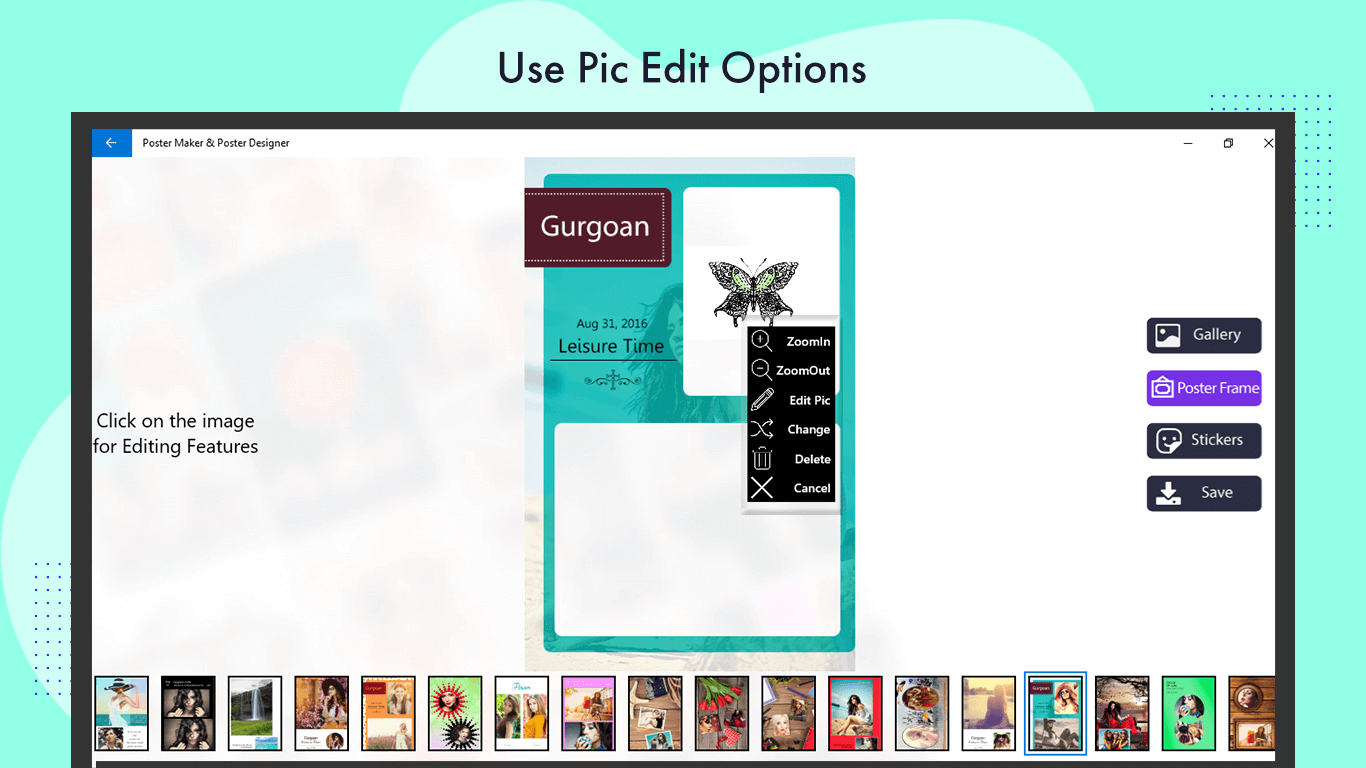 Step 4: After editing the photos, follow the under mentioned steps:
After editing a photo, click on the Next button and click on the stickers button and apply cool stickers to the photo.

choose 2, 3, 4, and 5 photos option and follow the same step and create a poster easily.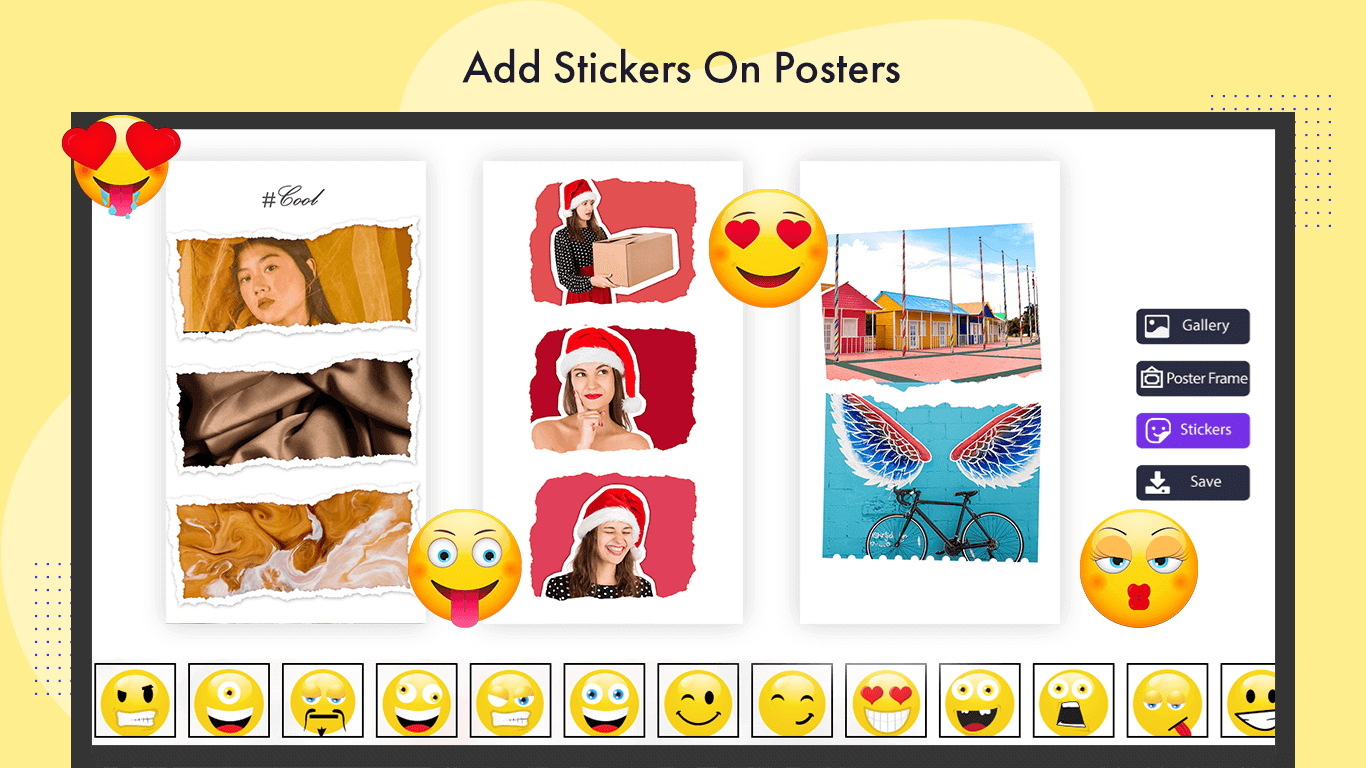 After creating a poster, click on the save button to save.