Video editing is a very professional job, being an amateur can cause you a little too many problems if you want to edit your videos but our app "Video Editor Music – No Crop Blur Background" brings you the most advanced and easy-to-use options to edit your videos. Now you can edit your videos and make slideshows at the same time with no more complications, look at our specially designed features to make editing more fun and easier for you. 
An ideal Video Editor app for Windows, Wish to post candid photos and customized videos to Instagram full of fun stickers and emojis? Wish to create videos for YouTube by adding your own background music and effects?
We present you the topmost Instagram Video Editor, Photo Editor, and Collage Maker with blur video background and photo editing options including adding stickers, texts, and more than one effect on photos. You get all these impressive features in one app.

COLLAGE 

We need some features that enable us to boast off multiple photos at the same time in a single frame. How fascinating and wonderful it would be to have different photos of different backgrounds with our favorite people in a single frame. Well, we are here with our collage feature. Tap here to know more about the same. Capture good moments by picking pictures from the gallery, you can make collages of 1-4 images.
Step 1: When the app opens up, it will present you with an option to create a collage using the 'Collage' option on the home screen. 
Choose the grid size from a variety of sizes and grid columns available. You can even choose a grid for uploading specifically on Facebook, Instagram, or Twitter.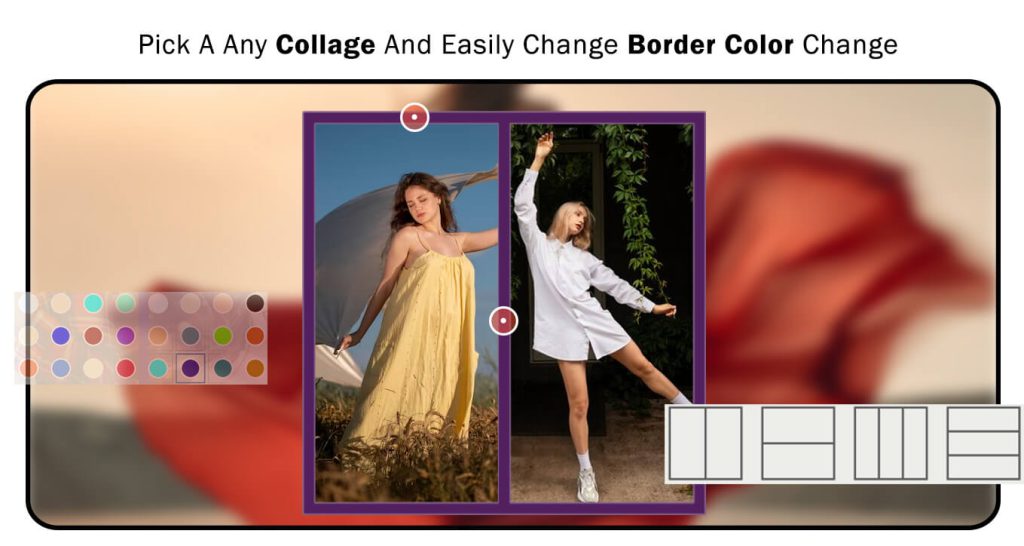 Step 2: 'Adjustment' icon lets you alter the border-radius and corner radius by adjusting the slider accordingly.
Flip/Rotate the collage to whichever degree you require.

A lot of filter effects and artistic features can be applied by choosing from the palette of features available by using the 'Effects' icon on the right-hand side of the window.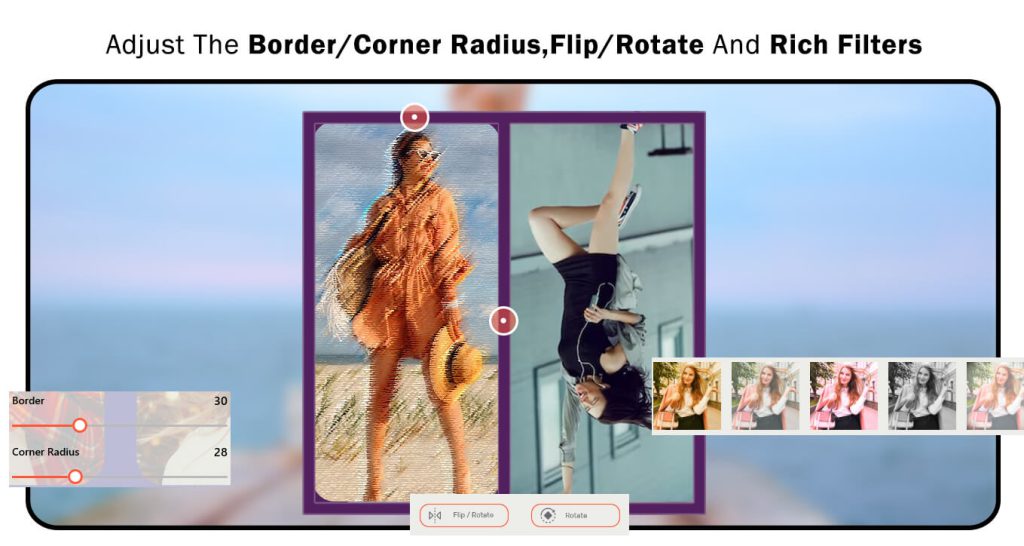 Step 3:
Click on the add stickers icon which will provide you with a lot of options to choose from. Choose the one you wish to apply to the image itself in order to make the collage more magnificent.

Add words to your immobile pictures and make them speak your mind by using the 'Text' button. Write in the box that appears on the screen. You can also change the size, style, font, and color of the text.
Step 4: Click on the shape mask feature to add a mask of a particular shape. Choose from these options provided. Click on the mask feature which provides you with a lot of customized masks to add to the collage.
Colored and patterned background on the photos can also be changed and applied by using the 'Fill' icon on the right pane. Choose from the numerous options available. 
Step 5:- Once you are through with creating and editing your collage, go ahead and save the collage in the gallery of your device by using the save button.