The techno-savvy world brings forth yet another enticing feature of blending two photos and making them one.
Blend any two of your photos into a single photo to create a magical blend effect. Photo Blender is a simple but mighty app, it mingles two of your images into a single image. A transparent overlay of the first photo taken can be overplayed on another photo taken from a gallery or camera. Direct yourself by selecting any two pictures. It can be two pictures of the same person in diverse poses or pictures of two disparate people.
 Adjust blend level with ease through this application. The Blender Camera is simple to use and has a pleasant interface. The application is lodged with super fantastic filters, diverse background, crop function, beautiful frames and stickers, and a meter for brightness, warmth, contrast, saturation, tint, sharpen, blur, highlight, and shadow, that you can increase or decrease to make your blended images even more astounding.
Click on the  Apply Button and go to the Next Effects to beautify your photos.  You can rotate, zoom in, and zoom out both Blended Images. Don't worry about the mistakes and pitfalls because you can use Undo or Redo Effects.
Guide to use: BlendMix – Photo Blend

Editing is a prerequisite for the beautification of your images and putting them in a completely different spotlight. We got your back as there exists a lot of Professional Tools for Editing in this magnificent application we have created for our users.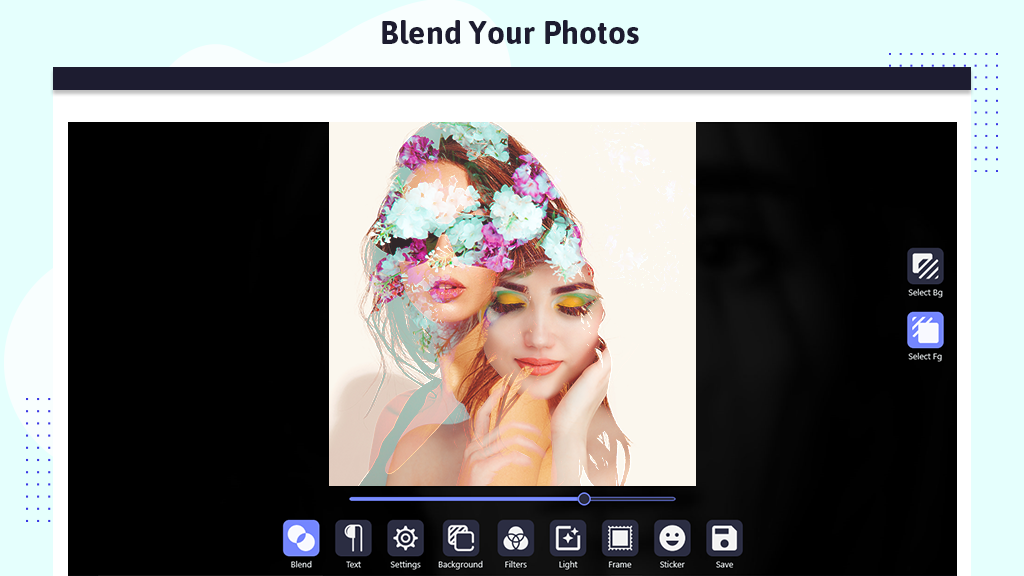 Step 1: In the realm of the icons, the next eight icons appear in front of you to select and edit. The first tool being the "text tool", Write text on your blend photo. It has awesome Font Styles with a wide range of color options. Write text on the photos and make them more compelling.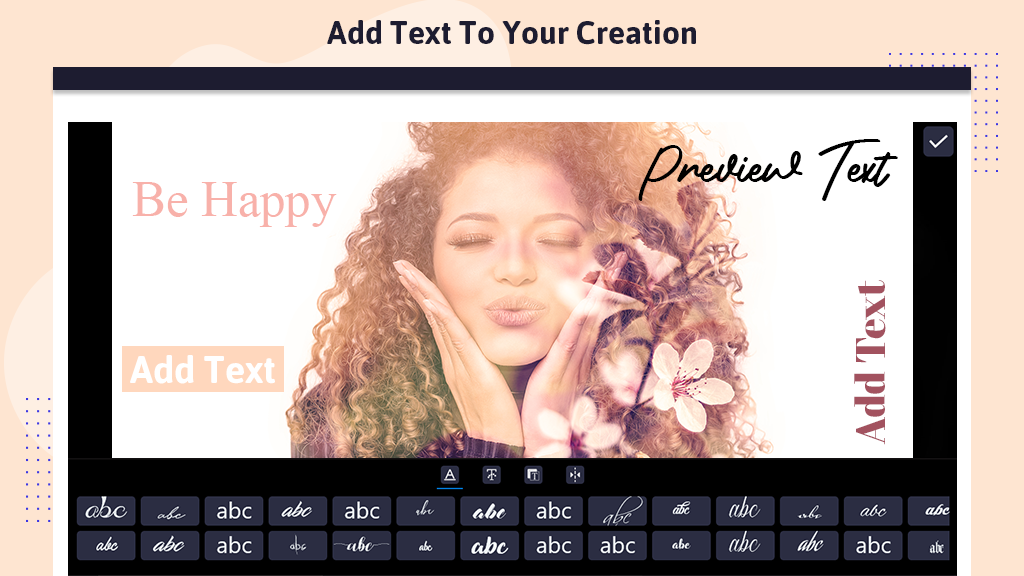 Step 2: The next two icons are "settings" and "background". From these icons, you can bring changes in the background of the photo and adjust them with new editing tools. Click on Background to choose one from various options. You can blend your image with backgrounds also. There are a lot of aesthetic backgrounds available to choose from. By exploring the "setting option", a set of six tools appears which are, 'right rotate', 'left rotate', ' vertical', 'horizontal', 'inside', and 'fill'. Use these tools to enhance your picture more intensely.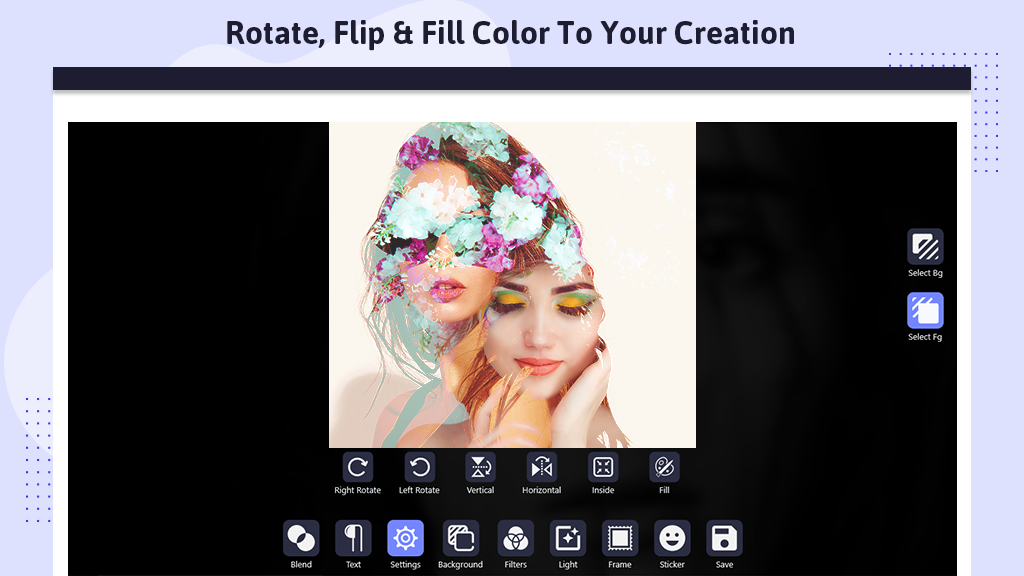 Step 3: hope you are getting well-versed with the above-mentioned icons. To move forward, click on the "filter" button and click on a filter to apply beautiful Photo Filter Effects to your photo. A pool of gorgeous filter effects available that you can use to apply on the photos. Click on Brightness and set photo brightness. Choose a filter option and lots of filters like; Brightness, Effect, warmth, contrast, saturation, and many more will appear.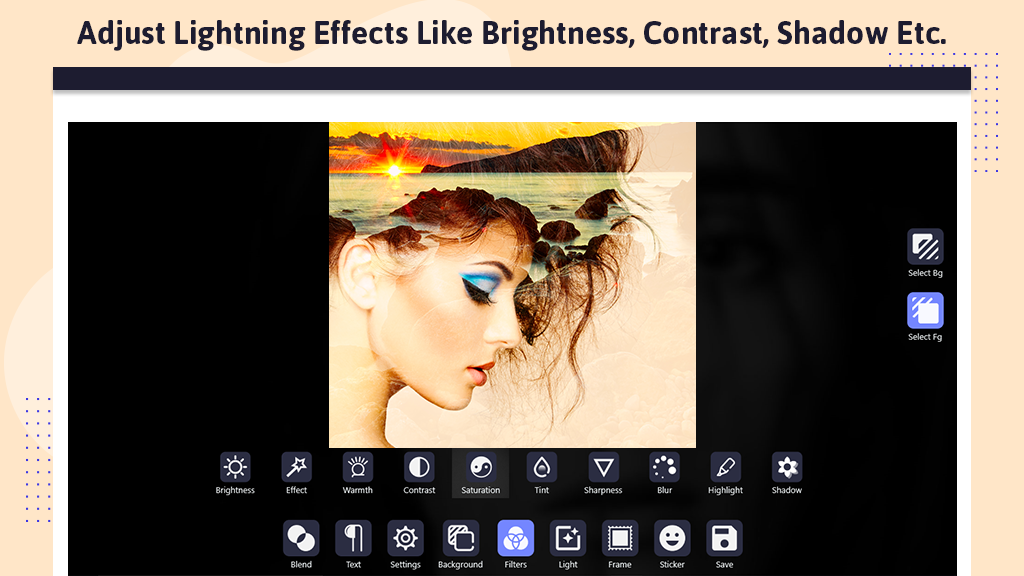 Step 4:  the next effect is the "light effect". Click on Light Effects to apply Stunning Light Effects to your photo. Myriad gorgeous Light Effects are available to apply.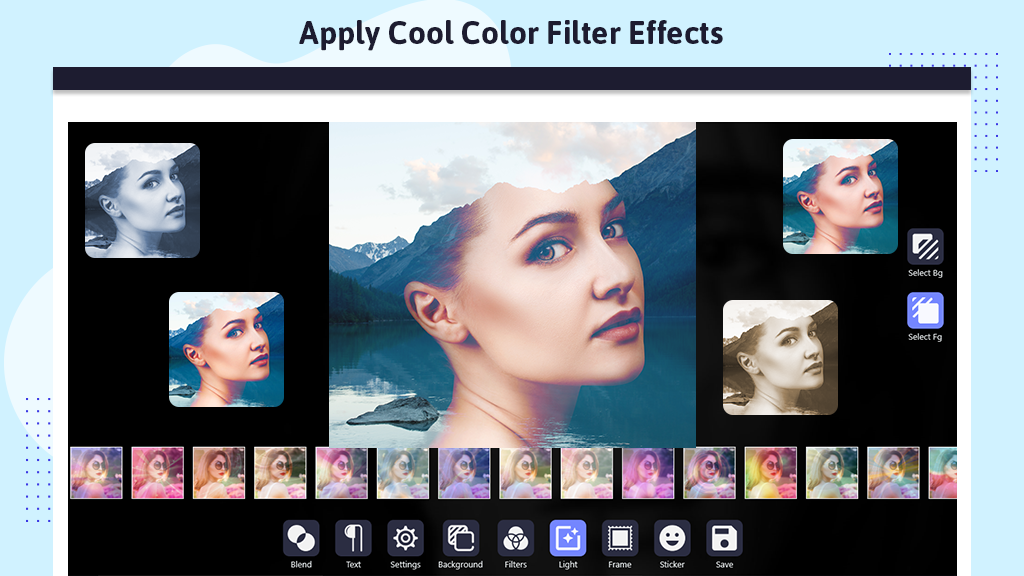 Step 5:   Click on the frame button and choose awesome frames lot's of amazing photo frames to choose from. Click on any frame to apply the frame to your photo. Handpick various photo frames which are designed so beautifully.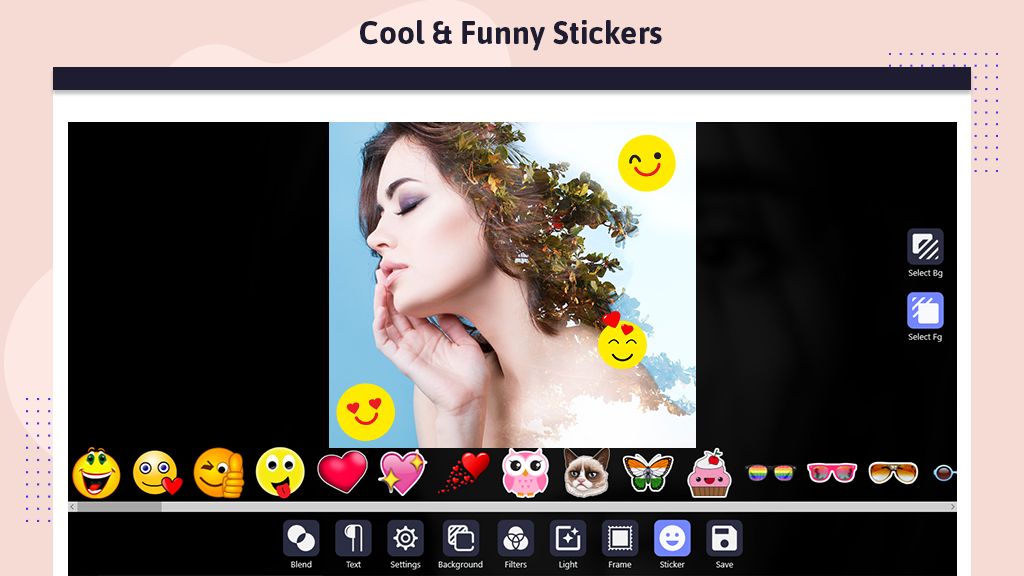 Step 6: Click on the sticker button and choose funny and cool stickers on your photo. Click over the stickers to apply stickers.