Collages require good composition within your imagery. Doodle with perspective and accentuate and exaggerate it to create collages. Grids help to prevent the messy look because through the grid collage function, the frame is divided into a different equal section for the images to fit in well. With editing, you can make the photo look more vibrant and colorful. Editing provides wings to the image. It makes your photos alluring with trouble-free and powerful editing tools. This application consists of a plethora of filters and effects which are so bendy and easy to use. It takes no time at all to make good photos look great and graceful.  Full feature adjustments like rotation, brightness, contrast, sharpness, and many more functions. Add funny stickers to your images and make a perfect collage. 'PICTURE COLLAGE MAKER AND PHOTO EDITOR'  is an easy-to-use, creative photo editor. It can add emotions to your creative photos with Emojis, smiles, and popular tag. Make your image look creative in seconds without using a professional editor and set it as a contact icon, a wallpaper, send a signed virtual postcard to a friend or share it to any social networking platforms.
Step 1:- Now that you have downloaded this marvelous application on your PC or laptop, launch it by clicking on it.
 Click on the "Photo Editor" option and choose an image from your system gallery.

Now, crop the image by selecting the desired area. You can also flip the image horizontally or vertically, as well as rotate it to the desired angle. Once you are done, click on the "Crop and Next" button.
Now, click on the "Filter" button and select your favorite filter effects. Apply the chosen filter to enhance the appearance of your image creation.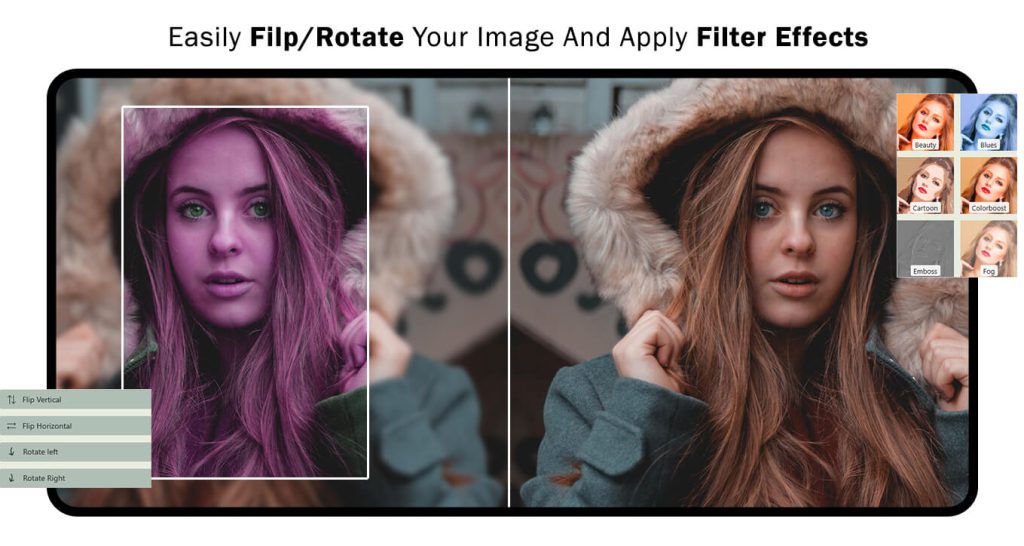 Step 2:-
The "Frames" option allows you to add frames to your image creation. The app provides a wide variety of frames for you to choose from. Simply select your preferred frame and apply it to enhance the presentation of your image creation.
The "Stickers" option allows you to add stickers to your image. App provides you with a wide variety of trending stickers to choose from. Simply select your desired stickers and apply them to your collage easily.
Click on the "Text" button and enter your desired words in the text box that appears after selecting the text option. You can choose the text style and text color according to your preference. Once you are satisfied with your text, click on the "Add" button. You can then arrange the position of the text by dragging it to the desired location on your image creation.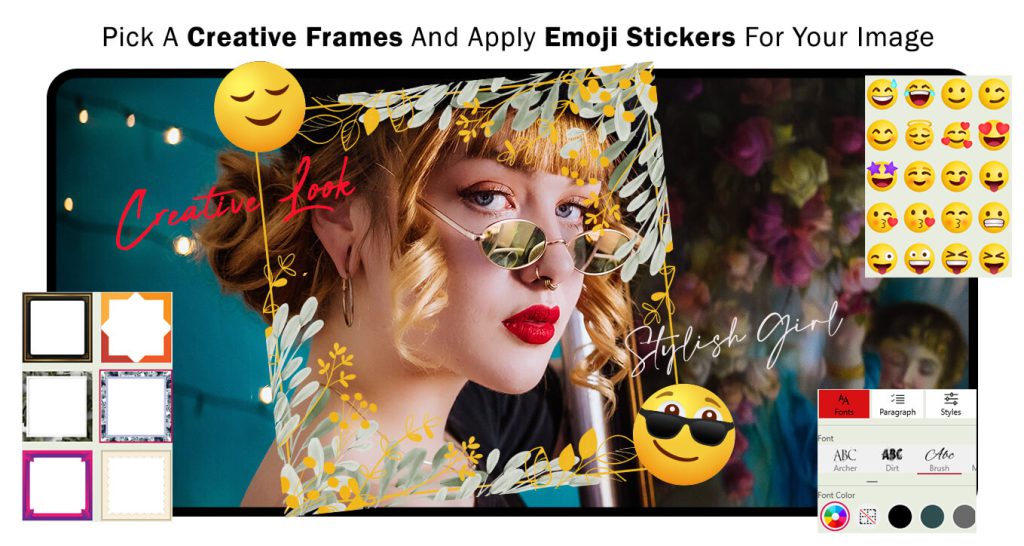 Step 3:- Overlay: The overlay feature adds a layer on top of the grid's surface, allowing you to enhance the visual appeal of the collage and individual images within each column.
To utilize the overlay feature, click on the overlay icon and explore the various options provided for your convenience. Choose your favorite overlay effect from the available choices and apply it to your collage. This will add an additional layer of creativity and aesthetic to your composition.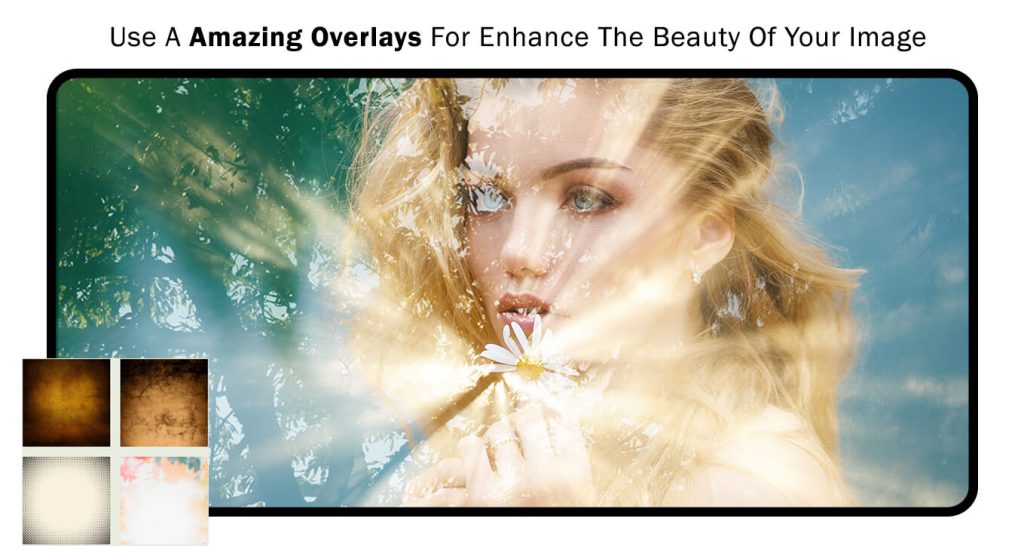 Step 4:-
The "Adjust" option allows you to fine-tune various aspects of your image, including brightness, contrast, sharpness, and more. You can use this option to enhance the overall appearance of your image by adjusting these parameters according to your preference.
The "Blur" option helps you to add trending shapes to your collage image creation. Simply click on the "Blur" button and set a blur value and apply it on your image creation.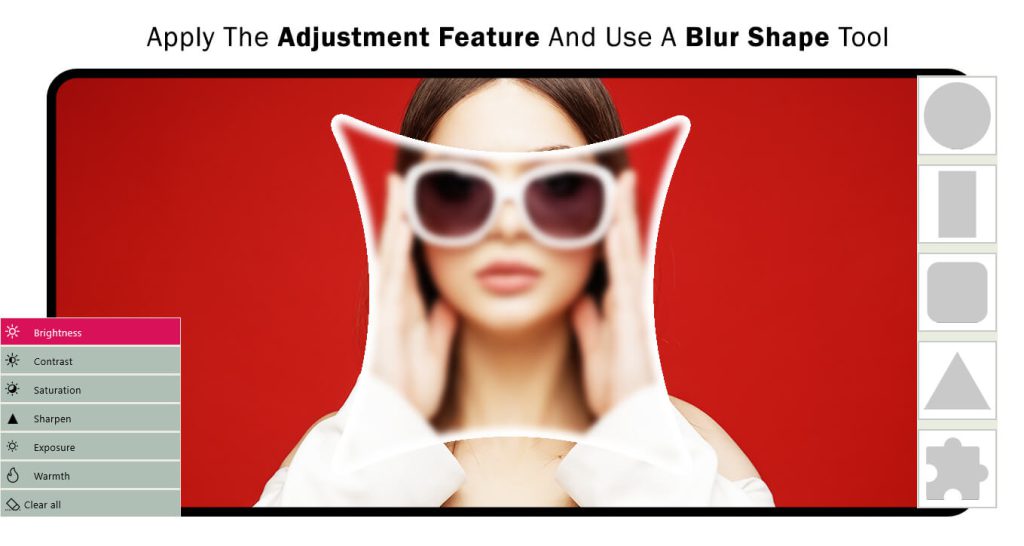 Step 5:- Great job! Now, click on the "Save" button to save your image creation. Once saved, you can start sharing it with your family and friends on popular social media platforms. Get ready to showcase your creation and spread joy among your loved ones!